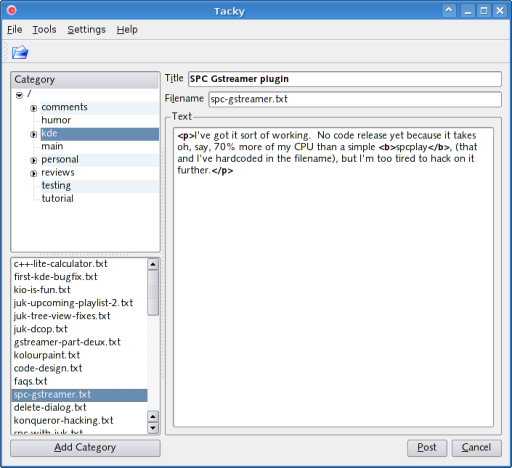 I offer this up merely because it's what I happen to use used to use when posting my blogs. Seriously, this application is completely useless to you nowadays, it's only still listed for posterity.
Current version: Tacky 0.7.1 (101.1 K)

Features:
Requires PyBlosxom.
Well, it's a GUI.
Simple HTML highlighter.
Can insert your Konqueror bookmarks automatically hyperlinked.
Pretty much stays out of your way otherwise.
Uses KIO so that you can post to anywhere you can access with a KIOSlave. This can be especially useful with the fish kioslave, which allows you to post to anywhere you have SSH access to.
Changes:
French translation, courtesy of Thomas Nagy.
The "Browse" button in the Settings dialog works again.
Removed the "Atom-enabled" section of the Settings dialog, there's no code behind it yet.
bksys updates.
If you are using a local protocol (in other words, your blog files are on your system), Tacky will ensure that editing a prior blog entry doesn't make it appear as the latest.
Mouse cursor is set to busy on startup until the read of the blog directory is completed.
Tacky won't let you try to remove the root category anymore.

You can now open old blog entries and edit them, and save the changes. Welcome to the 20th century.
Startup speedups.
Code re-organization, hopefully someday tacky won't be limited to pyblosxom blogging.

Tacky fully supports KDE KIOSlaves.
Added Remove Category command to category context menu.

Added support for previewing your blog entry.
Limitations:
You have to have be able to reach your PyBlosxom data directory using KIO. For 99% of you, this means you'll be running PyBlosxom on your system, just like I am. If your provider supports SSH access you can use the sftp:// or fish:// kioslaves.
I haven't extensively tested it for bugs.
KDE 3 only.
Seriously, there are one million better tools for this, use something else. :)
Todo:
Add KIO support.
Add Blogger API support.
Add secure publishing API support.
Allow posting without publishing. (You can fake this by using a file extension of .txt- though)
Allow editing prior blog entries.
Allow previewing your blog entry before you publish it.